HIGH-PERFORMANCE REFLECTIVE INSULATION M1M
This product is a 4 mm thick reflective insulation consisting of a layer of air bubbles laminated between aluminum foil on each side.
Benefits
Is quick and easy to install
Reduces condensation, air infiltration, and energy costs
Reduces indoor heat gains and provides an excellent R-value
Tests and certifications


Properties
Walls
Ceilings and Attics
Indoor Applications
Characteristics
-50 °F to 180 °F (-45 °C to 82 °C)
Instructions
Keep the rolls in an upright position at all time in a dry area.
Product must be installed in combination with rigid insulation when used with poured-in radiant water heating systems. Consult heating system manufacturers to know more about rigid insulation requirements. Ensure that the product is installed according to building codes and municipal or government authorities' requirements.
When used underneath a concrete slab, concrete is usually poured over the white side of the HIGH-PERFORMANCE REFLECTIVE INSULATION M1M. If the reflective surface must be in contact with concrete, the surface must be protected – or HIGH-PERFORMANCE REFLECTIVE INSULATION CA2P, which is especially designed for concrete floor applications, could be used instead.
Previous identity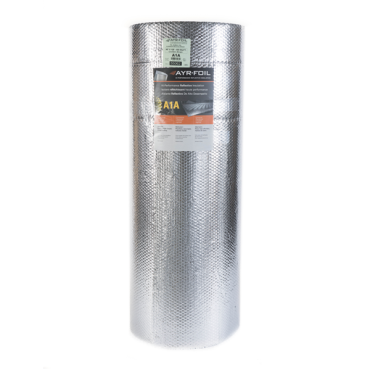 Conditioning
M1M HIGH-PERFORMANCE REFLECTIVE INSULATION
Gross area
500 ft² (46.45 m²)
M1M HIGH-PERFORMANCE REFLECTIVE INSULATION
Gross area
1000 ft² (92.9 m²)
M1M HIGH-PERFORMANCE REFLECTIVE INSULATION
Gross area
50 ft² (4.65 m²)
M1M HIGH-PERFORMANCE REFLECTIVE INSULATION
Gross area
250 ft² (23.23 m²)
Palletization
M1M HIGH-PERFORMANCE REFLECTIVE INSULATION
M1M HIGH-PERFORMANCE REFLECTIVE INSULATION
M1M HIGH-PERFORMANCE REFLECTIVE INSULATION
M1M HIGH-PERFORMANCE REFLECTIVE INSULATION