LIQUID WATERPROOFING MEMBRANE RESISTOFLASH
Waterproofing single-component polyurethane/bitumen resin dedicated to flameless roof waterproofing in new buildings or renovations.It is ready to use and is applied directly on traditional bituminous waterproofing without any primer. Use it for a complete waterproofing on parapets or upstands in new construction or renovation works.
Benefits
Quick and easy to use
Perfect to waterproof joints between two supports
UV resistant
Tests and certifications


Properties
Roofing
Accessory Products
Characteristics
Wood
Metal
Concrete
SBS modified bitumen membrane
PVC pipes
Paint brush applied
Rolled
Trowel applied
-22 °F to 302 °F (-30 °C to 150°C)
Instructions
Store in its original, closed packaging, in a cool, dry place between 41 °F and 104 °F (5 °C and 40 °C). A skin can form on top of the product. It must be removed before shaking the product.
Minimum application temperature
Trowel
Paint brush
Roller
The substrate must be clean and free of dust, grease or other contaminants.
Keep out of the reach of children. Harmful if swallowed, inhaled, or in contact with skin. Properly close the container after each use. Do not pour residues in drains.
It is not recommended to use a product containing bitumen directly on softwood boards or flexible polyvinyl chloride.
Clean with petroleum solvents such as mineral spirits, Varsol, and xylene
Previous identity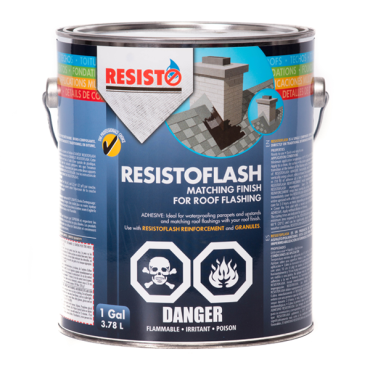 Conditioning
LIQUID WATERPROOFING MEMBRANE RESISTOFLASH
Coverage
25 ft² (2.32 m²) following the installation instructions with the reinforcement
Weight
10.16 lb (4.61 kg)
Weight per skid
1,157 lb (525 kg)
Palletization
LIQUID WATERPROOFING MEMBRANE RESISTOFLASH
Weight per skid
1,157 lb (525 kg)