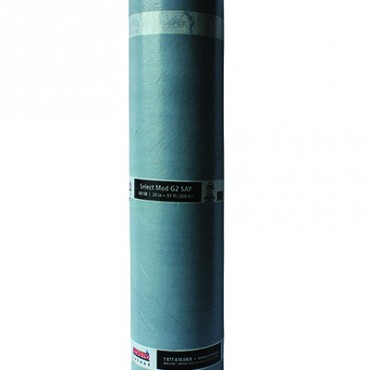 SELECT MOD G2 SAP BASE
The RESISTO SELECT MOD G2 SAP BASE is an SBS modified, fibreglass reinforced base sheet. The Resisto Select Mod G2 SAP Base is manufactured to be a self-adhered membrane. The RESISTO SELECT MOD G2 SAP BASE is manufactured with a film surface on the topside, and a release film on the underside.
Benefits
Clean, fast and easy installation
High tensile strength reinforcement
Remains Flexible at low temperatures
Consistent thickness
Can be used on low slope and flat roofs
Cost effective for retrofits and new construction
Tests and certifications



Characteristics
Outside low slope
Outside very low slope
Inside slope
SBS modified bitumen membranes
Asphaltic panel
Concrete
Exterior gypsum
Steel deck
Thermofusible plastic film
Not UV resistant, cover as soon as it is dry
Instructions
Rolls should be stored upright, tape side up, protected from weather damage and UV rays. If the products are stored outdoors, cover them with an opaque protective cover after removing the delivery packaging. Can withstand freezing but must be reactivated to at least 50 °F (10 °C) before installation.
Minimum application temperature
The substrate must be clean, dry, and free of dust, grease or other contaminants.
It is not recommended to install the membrane directly on wood boards. Cover the surface with a suitable panel or an underlayment membrane prior to the installation of the membrane. It is not recommended to use a product containing bitumen directly on softwood boards or flexible polyvinyl chloride.
Conditioning
Gross area
296 ft² (27.8 m²)