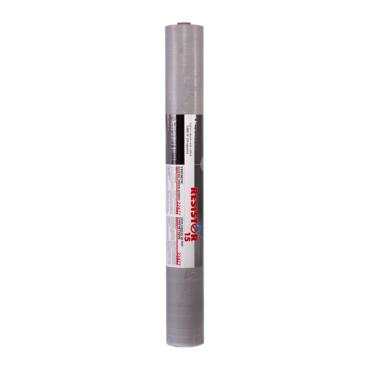 SYNTHETIC ROOFING UNDERLAYMENT RESISTOR 15
Light synthetic base sheet made of woven polypropylene with an anti-slip thermoplastic polyolefin coating. It can be used as a complement to the installation of an eave protector.
Benefits
Woven polypropylene substrate highly resistant to traction and tearing
At least ve times lighter than 30 lb (13.6 kg) felt board
Each roll covers a surface 4.6 times larger than felt boards
UV resistant
Provides a unique finished look to exposed roof surfaces
Provides an emissive layer
Printed nailing pattern for easy installation
Lighter colours reduce expansion and contraction
Contains no asphalt
Tests and certifications


Characteristics
Asphalt shingles
Metal roofing
- 55 °C to 110 °C (-67 °F to 230 °F)
Instructions
Rolls should be stored upright, tape side up, protected from weather damage and UV rays. If the products are stored outdoors, cover them with an opaque protective cover after removing the delivery packaging.
Minimum application temperature
Can be used in any temperature
Maximum application temperature
Can be used in any temperature
Knife
Tape measure
Hammer
Ring roofing nails 25 mm (1 in)
The substrate must be clean, dry, free of dust, and smooth with all the rough edges and asperities repaired or removed, e.g., nails and staples.
Pneumatic staple guns are not recommended.
Conditioning
SYNTHETIC ROOFING UNDERLAYMENT RESISTOR 15
Gross area
1,000.00 ft² (93.0 m²)
Net area
915 m² (85.1 ft²)
Palletization
SYNTHETIC ROOFING UNDERLAYMENT RESISTOR 15