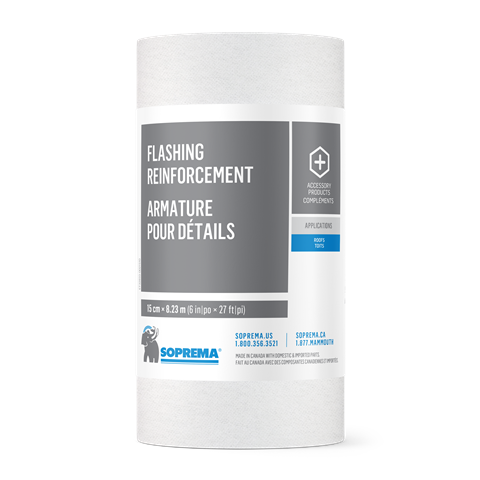 ALSAN FLASHING
ALSAN FLASHING is a patented single-component, polyurethane- and bitumen-based waterproofing coating used to waterproof hard-to-access upstands and other details where it is difficult to apply sheet waterproofing membranes.
Benefits
Superior protection against moisture
Easy to apply, which reduces the cost of labour
Fire hazards are eliminated because no torch is used, bringing peace of mind to customers, neighbours and tenants.
Tests and certifications



Properties
Roofing
Accessory Products
Instructions
Keep away from flames or sparks. / Up to 12 months in original sealed containers protected from humidity.
Clean with petroleum solvents such as mineral spirits, Varsol, and xylene.
Previous identity
Liquid waterproofing membrane RESISTOFLASH
Conditioning
ALSAN FLASHING 1 gal (3.78 L)
Coverage
50 ft² (4.6 m²) per layer per pail
Weight
10.16 lb (4.61 kg)
ALSAN FLASHING 5 gal (19 L)
Coverage
250 ft² (23 m²) per layer per pail
FLASHING REINFORCEMENT 6 in x 27 ft (15 cm x 8.23 m)
Coverage
13.5 ft² (1.25 m²)
ALSAN FLASHING 31 oz (910 ml)
Coverage
11.9 ft² (1.1 m²) per layer per pail
Palletization
ALSAN FLASHING 1 gal (3.78 L)
ALSAN FLASHING 5 gal (19 L)
FLASHING REINFORCEMENT 6 in x 27 ft (15 cm x 8.23 m)
ALSAN FLASHING 31 oz (910 ml)