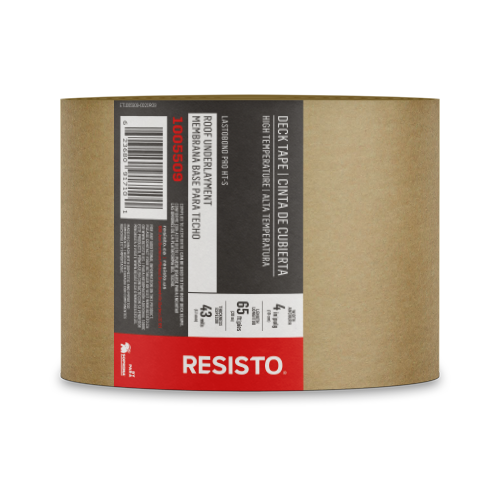 DECK TAPE
This product is a 43 mils (1.1 mm) self-adhesive tape composed of elastomeric bitumen and trilaminate woven polyethylene. The underface is composed of a silicone release paper. It provides an air and vapor seal to the roof deck seams and other construction details.
Benefits
Excellent resistance to temperature variations
Easy Installation
UV resistant; 90-day exposure
Tests and certifications





Properties
Roofing
Accessory Products
Characteristics
Plywood
OSB
Asphaltic panel
Trilaminate woven polyethylene
Instructions
Rolls should be stored upright. If the products are stored outdoors, cover them with an opaque protective cover after removing the delivery packaging. Can withstand freezing but must be reactivated to at least 10 °C (50 °F) before installation.
Minimum application temperature
It is not recommended to use a product containing bitumen directly on softwood boards or flexible polyvinyl chloride (PVC).
Conditioning
Thickness
43 mils (1.1 mm)
Thickness
43 mils (1.1 mm)