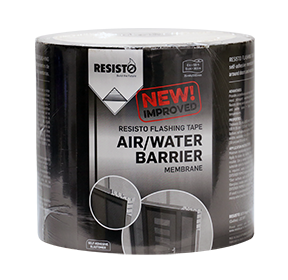 RESISTO FLASHING TAPE
Self-adhesive bitumen membrane that eliminates drafts and water leaks by ensuring the continuity of air barrier and waterproofing systems around doors and windows. FLASHING TAPE must be covered by a finishing material.
Benefits
Provides a continuous air/water barrier
Resists strong winds and gusts
Eliminates drafts and water leaks
Tests and certifications


Properties
Air and Vapor Barrier Membranes
Flashing Membranes
Characteristics
Plywood
OSB
Concrete
Gypsum
Instructions
Minimum application temperature
Tape measure
Membrane roller
Utility knife
The substrate should be clean, sound, dry and free of any loose materials, grease and contaminants that may compromise the performance of the product.
If the product is to be applied directly on wood planks, ensure that wood planks do not contain or are not surfaced with any substance, especially near the knots, that can liquefy bitumen. Otherwise, such area shall be covered. Must not be in contact with flexible PVC or other products containing plasticizers. In applications where the membrane could remain exposed for a longer time, use the ALUMINUM WATERPROOFING MEMBRANE. FLASHING TAPE is not designed for roof applications.
Conditioning
Gross area
33.3 ft² (3.09 m²)
Net area
33.3 ft² (3.09 m²)
Weight per skid
1,141 lb (518 kg)
Gross area
50 ft² (4.65 m²)
Net area
50 ft² (4.65 m²)
Weight per skid
1,141 lb (518 kg)
Gross area
75 ft² (6.97 m²)
Net area
75 ft² (6.97 m²)
Weight per skid
1,141 lb (518 kg)
Gross area
100 ft² (9.29 m²)
Net area
100 ft² (9.29 m²)
Weight per skid
1,141 lb (518 kg)
Gross area
150 ft² (13.94 m²)
Net area
150 ft² (13.94 m²)
Weight per skid
1,141 lb (518 kg)
Palletization
Weight per skid
1,141 lb (518 kg)
Weight per skid
1,141 lb (518 kg)
Weight per skid
1,141 lb (518 kg)
Weight per skid
1,141 lb (518 kg)
Weight per skid
1,141 lb (518 kg)