Cellulose Fibre: Ecological Insulation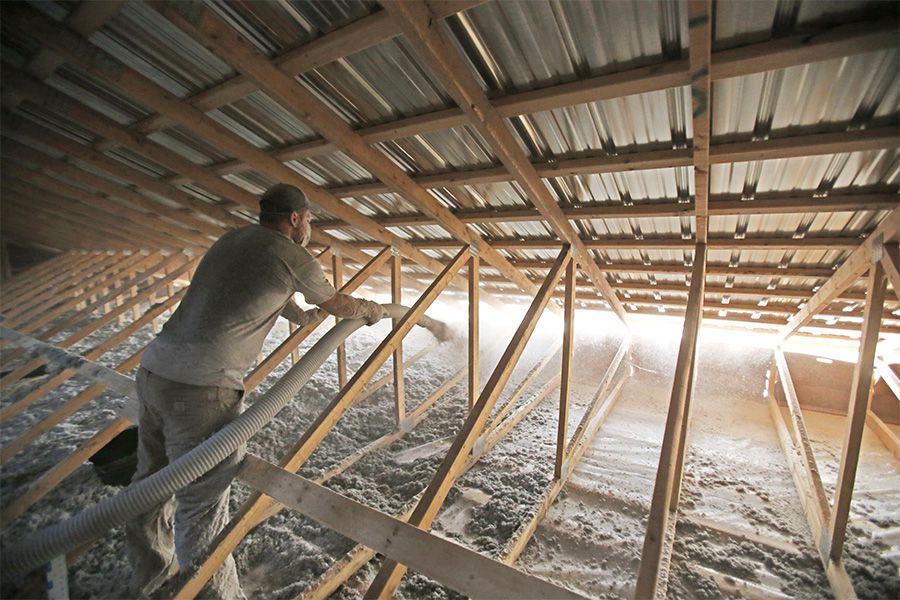 When selecting an insulation material for your building, many factors come into play. You must consider cost, energy efficiency and environmental impact, but also the occupants' health, safety and quality of life. Cellulose fiber is an interesting choice meeting all these criteria. SOPRA-CELLULOSE is a thermal and acoustic insulation composed of 85% recycled newspapers and 15% fireproofing minerals.
Thanks to its recycled fiber composition and eco-friendly manufacturing process, SOPRA-CELLULOSE is one of the most environmentally friendly insulation products on the market. By giving a second life to residual material from a selective collection, cellulose contributes to the preservation of natural resources, the LEED program and other green-building programs, providing the right to tax credits. SOPRA-CELLULOSE also meets the requirements of GREENGUARD Gold certification.
Easy Installation
Cellulose has the appearance of small grey fibers and is smooth to the touch. Since it is either blown or injected, it can be used for both new construction and renovation projects. Insulation infiltrates the small interstices of the structure to form a homogeneous cushion without joints, thus limiting air infiltration and thermal bridging.
In attics, SOPRA-CELLULOSE must be blown using specialized pneumatic equipment to a minimum density of 1.5 lb/ft³ (24 kg/m³) and may also be manually placed in confined spaces. For walls and ceilings, it is better to proceed by injection. SOPRA-CELLULOSE must be injected at a minimum density of 56 kg/m³ (3.5 lb/ft³) for walls up to 150 mm (6 inches) thick and at a minimum density of 64 kg/m³ (4 lb/ft³) for walls over 150 mm (6 inches) thick. For injection into floors and ceilings, it must be blown at a density between 1.8 lb/ft³ (28.8 kg/m³) and 3.0 lb/ft³ (48 kg/m³). In addition, when the building has reached the end of its life, cellulose can be recovered by suction and then reused.
Maximum Safety
Laboratory test results on SOPRA-CELLULOSE, which is manufactured in accordance with CAN/ULC-S703 Standard, report superior fire resistance (CAN/ULC-S102.2). In the event of a fire, cellulose will delay flame spread in the building, which will give occupants several essential minutes to get somewhere safe.
In addition, it does not contain asbestos, fiberglass nor formaldehyde, and is certified for its low volatile organic compound (VOC) content. SOPRA-CELLULOSE does not irritate the skin and offers superior resistance to corrosion, moisture and mold. Moreover, its flame-retardant properties help prevent the intrusion of insects, vermin and small rodents.
Minimal Noise
Due to its high density, SOPRA-CELLULOSE has superior acoustic properties, which increases noise absorption and provides peace of mind to occupants. It acts as a shield that reduces the transmission of heat and sound.
Optimal Comfort
With an R-value of 3.7 per inch, SOPRA-CELLULOSE offers the highest thermal resistance of all traditional loose bulk insulation fibers on the market, allowing optimal control of temperature and humidity.
In summary, cellulose is one of the best choices in terms of price-quality ratio, and, its high energy efficiency translates into potential annual savings on heating and cooling costs.